Expert Transmission Service at Romain Buick GMC
Car Transmission Services in Evansville, Indiana
When it comes to servicing and maintaining your transmission, the team at Romain is here to help! If you feel like your transmission is not working up to its peak levels, our staff can help as we will give it a road-test, do a diagnostic test, and give you an accurate estimate for the work that does need to be completed. If it does turn out that your transmission needs work, our team is trained to work with both automatic or manual transmissions, using the most up-to-date tools and techniques.

From powertrain services to full transmission rebuilds, we're happy to help with your transmission issues. We proudly service all makes and models and all types of vehicles. Learn more here about why our service center is preferred by Indiana, Illinois and Kentucky drivers around Evansville.
The Romain Transmissions Difference
-Free Estimates
-Free Diagnostic Services
-Starting At $1,450 Rebuilt Transmissions Installed
-Service ALL Makes & Models Cars, Light-Duty Trucks, Vans, and SUVs
-Same Day Service On Most Vehicles
-24 Months / 24,000 Mile Warranties
-Extended Warranties Available
-Towing Services Available
-ASE Certified Automatic & Manual Transmissions
Member of the Automatic Transmission Service Group. ATSG is the largest, employee-owned, technical support service in the Automatic Transmission Industry. We offer a Technical Hotline, Books, Software, Bulletins, Seminars, and Technical Courses to the Automatic Transmission Professional.
Complete Power Train Service
-Fluid & Filter Change
-Foreign & Domestics Automatic & Manual Transmissions
-Transmission Rebuilds & Exchanges
-Front & Rear Differentials
-Clutches, Flywheels, Pressure Plates, and Throwout Bearings
-U-Joints, CV Joints, Axle Boots, and Drive Axles & Shafts
Don McCrary | Romain's Transmission Expert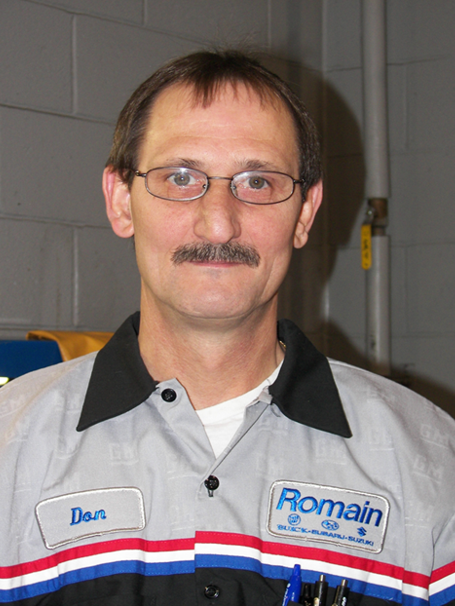 A professional diagnostic scan of your vehicle's electronic system is the only way to get to the heart of the problem, and Romain Service & Tire Center can do the job. We have a full line of top-quality vehicle diagnostic equipment and software for computerized vehicles. If the "check engine" light is on, bring the car in, and we'll do our best to get you a quote.