Chevrolet Electric


2022 BOLT EV & BOLT EUV


Arriving summer 2021

Powered by ingenuity
The dream of an electric future is more than just technology — it's about having the desire, inspiration and innovation to build a better tomorrow. We've teamed up with Walt Disney World® to discover the magic that happens when you electrify your imagination. Introducing our all-electric lineup, the new 2022 Bolt EUV and redesigned Bolt EV. Our electric future is here.
Redesigned 2022
BOLT EV
Bolt EV: It's time to charge forward.
New energy for your everyday drive.
Its fresh, new exterior will grab your attention from the start. But it's the long range1, convenient charging options and low maintenance that renew your enthusiasm for the everyday commute. Add in first-rate tech, comfortable seating and smooth handling, and you'll see how the redesigned Bolt EV brings a whole new vibe to the road.
All-New 2022
BOLT EUV
Magic is Electric | Bolt EUV Reveal | Chevrolet
Welcome to the electric future.
What does an all-electric future look like? It looks sleek, with bold styling that gives way to a roomy, refined interior. It looks bright, with an illuminated charge port for convenience and flair. The all-electric future looks like the New Bolt EUV. And it's here today.
A simply smart way to drive.
When you make the switch to one of our electric vehicles, you get so much more than a new car. You get a fun and responsive all-electric vehicle that offers the perks of driving a Chevrolet along with less maintenance, more ways to "refuel" and innovative ways to make living electric easier than ever.


TAKE THE HOV LANE
Save time on your commute by taking the High Occupancy Vehicle lane in select states.
ZERO TAILPIPE EMISSIONS
No fuel to burn means you're driving cleaner.

STATE TAX INCENTIVES
Buying an EV could qualify you for state tax incentives.

MORE MULTITASKING
Charge up while you shop, sleep, work or do whatever else you want to do with your time.

CHEVROLET COMPLETE CARE
Covers your battery and specific electric drive components for 8 years or 100,000 miles, whichever comes first.

EXTENDED COURTESY TRANSPORTATION
Complete Care covers Courtesy Transportation for 8 years or 100,000 miles, whichever comes first, for covered warranty repairs.

UTILITY INCENTIVES
Installing a home charger may qualify you for local utility incentives.

MORE FUN!
Instant torque means more get-up-and-go.
Charging is so simple, it will fit seamlessly into your routine, like plugging in your cell phone. A standard Dual Level Charge Cord features a changeable plug, giving you a choice between level 1 and level 2 charging. And with an available illuminated charge port, you can light up where you plug in for added convenience and style.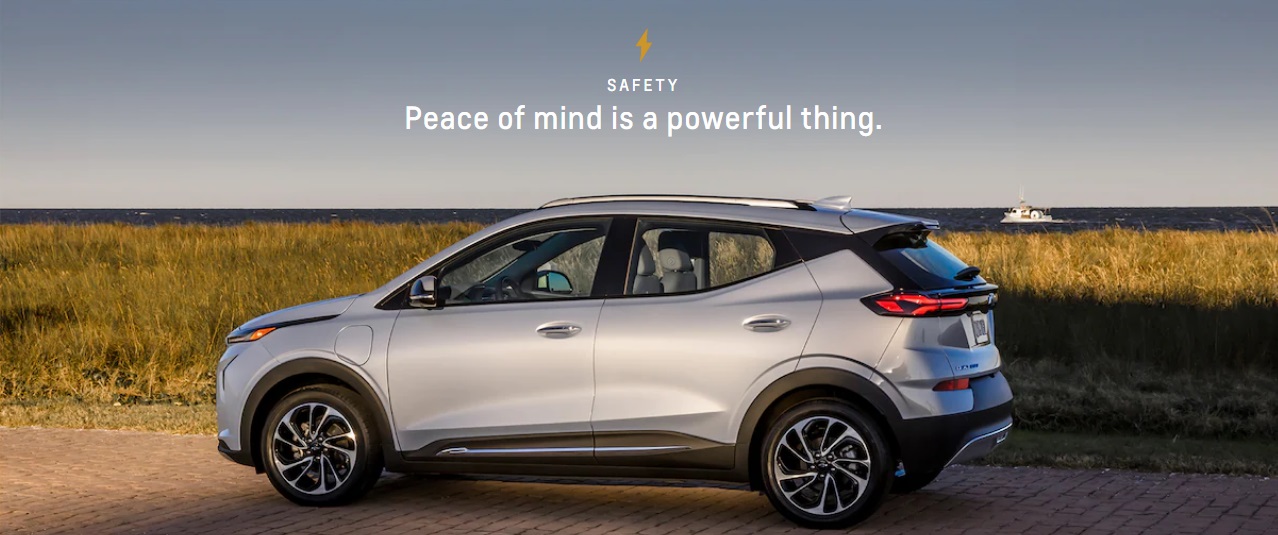 Both Bolt EV and Bolt EUV feature standard Chevy Safety Assist – a suite of six of our most advanced safety features designed to let you go confidently ahead.






Safety or driver assistance features are no substitute for the driver's responsibility to operate the vehicle in a safe manner. The driver should remain attentive to traffic, surroundings and road conditions at all times. Visibility, weather and road conditions may affect feature performance. Read the vehicle Owner's Manual for more important feature limitations and information.